18+ | Commercial Content | T&Cs apply | Begambleaware.org
Australia is home to several betting sites. In this post, I review top features of Pointsbet Australia Sportsbook to help you decided whether you should sign up and play on the site.
Best Features of Pointsbet Australia Sportsbook
If you have always wanted to place a bet on Pointsbet, the first consideration everyone makes is features of the sportsbook. Thus, I wanted to explore features that make the betting site outstanding before signing up. Before exploring them in detail, let's quickly summarize the top best features of Pointsbet as spread betting, new customer betting account management, Pointsbet Name a Bet Feature

Spread betting at Pointsbet
While many Australian sports bettors may still be grappling with the concept of spread betting but at Pointsbet, there is a section that explains everything. I wouldn't want to deviate from the fact that spread betting is quite challenging compared to fixed odds betting. Pointsbet happens to be only of the very few bookmakers providing sports punters with a chance to try it.
Technically, spread betting comes with speculation. It means to earn from your stake, you must be very apt in making predictions on price movement. Pointsbet sportsbook customers can use spread betting as an alternative to odds approach when placing bets on games such as horseracing, hockey, NFL, Baseball, soccer and other sports for which the feature is available. You must, however, take note of the high risk often associated with spread betting. I would say that the more risks you the higher your chances of winning. It means, spread betting is not very everyone who joins Pointsbet sportsbook and wants to use it for the first time.
Pointsbet New Customer Account Manager
For some, account management at Pointsbet sportsbook, Australia may sound like a relatively new concept. I noted that as a new customer on the platform, the sportsbook assigned me an account manager to walk me through the basics of using their platform. It is an experience like no other. The good thing about new customer account management on the betting platform is that it helped me learn about the sportsbook and its many exciting features such as spread betting.
In the end, account management is all I needed to understand a gaming site that has generated a lot of hype among Australia's gambling communities. Something even more noteworthy is that with account management, contacting customer support at Pointsbet is easier than ever. Email updates are timely and live chat support is the best way of asking questions about anything on the gaming site. Pointsbet account manager will also update you about offers available for new customers, including tips on how to navigate the platform.
Pointsbet Name a Bet
Make a Bet is a notable top feature that makes Pointsbet Australia stand out from competitors. To access the feature, visit Pointsbet Sportsbook Australia, navigate to sports and then locate Name a Bet. To use the name a bet feature, tweet Pointsbet on their twitter handle with the game or even on which you would like to space a wager. They will then price it up and feature it on the platform. Name a bet makes it possible to take advantage of thousands of betting opportunities available across different sports. The only disadvantage that comes with this feature is the lack of a bonus or any offers.
Pointsbet Mobile App-Is it worth using?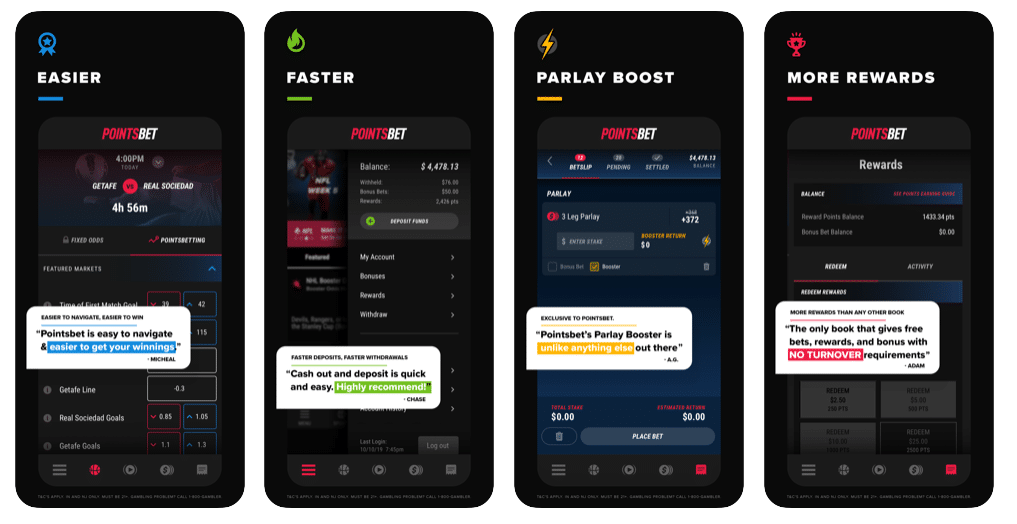 Most sportsbooks want to give their customers unmatched betting/gaming experience. With mobile apps that make it possible to play on-the-go, anytime and anywhere, I also wanted to find out if Pointsbet sportsbook has a mobile app. The app is compatible with both IOS and android devices. All you need to do is download a version for your device and you are all set to start playing. You can also sign up for an account at Pointsbet and claim any available bonuses.
To download it, visit Pointsbet sportsbook Australia and navigate to the menu icon at the top left corner. The download icon is available immediately after featured games. Click it to download and install. With the app, I managed to access vital features on Pointsbet sportsbooks such as the sports section, bet slip view, my account lobby and other useful features on the site. I would say, the app presents the same betting experience you get on Pointsbet sportsbook website.
Pointsbet FAQs to Help You Understand the Betting Platform
While I needed to explore the most outstanding features of Pointsbet, I further sought answers to questions that people ask frequently about the bookmarker. From learning about the legitimacy of the gaming side, how to withdraw funds to many other issues, the following questions with answers should further help you understand the Pointsbet gaming site:
Is it safe to bet on Pointsbet?
Yes, there is nothing to worry about if you choose to place your stakes on Pointsbet. The platform is not only safe but also trustworthy. The gaming company is licensed by Australia's Northern Territory Government. The site has 2048-bit encryption, a further assurance that your data and information is safe on the site.
How long does it take to process withdrawals at Pointsbet?
Processing of withdrawals at Pointsbet varies depending on the method. It is, however, noteworthy that in most cases, you should receive your funds between two to three business days. Withdrawals at Pointsbet can only take place via EFT and cards.
Can I stream matches live on Pointsbet?
No, Pointsbet Sportsbook Australia does not support live streaming of Matches.
I would like to sign up with Pointsbet Sportsbook. How Do I go about it?
To sign up, visit the official website of Pointsbet sportsbook Australia to start the registration process. Navigate to the top right corner and click the red button labelled 'sign up'. Apply sign-up promo code if you have it and fill in the details required to start playing.
What is the most popular sport in Pointsbet sportsbook Australia?
Every sportsbook boasts of a popular sportsbook and at Pointsbet, horseracing is the most popular game on which punters can place a bet.
Does Pointsbet feature American Football?
Yes, you can play American football, also known as NFL on Pointsbet sportsbook Australia. You have two options of betting namely NFL futures and fixed odds.
Who is eligible to join Pointsbet Sportsbook Australia?
The minimum age for gambling in Australia is 18 years. You must provide proof of age when registering at Pointsbet. It is precautionary measures of protecting gamblers from joining the sportsbook.
Pointsbet Review – Final Opinion

If you are looking to experience spread betting for the first time in Australia, Pointsbet sportsbook is worth trying. But it is not only spread betting that makes Pointsbet outstanding. They also have one of the best gambling apps in Australia, save for a few user experience issues that should be fixed.
Last Update : December 2023
Published by Bryan |
02-09-2020