100% bonus up to CAD $300
18+ | Commercial Content | T&Cs apply | Begambleaware.org
William Hill, a sportsbook with a global standing, seems to have a soft spot for its Canadian clients. The sportsbook has been around for over 30 years, and it has set a reputation for great odds, bonuses, and safety.
But how does William Hill fair against other sportsbooks in Canada? What exactly does this sportsbook has to offer, and what makes it the go-to sportsbook for Canadians?
Here is a comprehensive William Hill Canada sportsbook review.
William Hill Canada Review
William Hill Product
Bonus & Offers for 2023
William Hill Promo Codes Canada
Welcome Offer
Get Welcome Bonus of up to $250

USE COUPON

Sports Betting
Bet $10 on the Grand National and get a $5 free bet on Sunday.

USE COUPON

Casino
100% up to $300 welcome bonus

USE COUPON

Live Casino
$40 no deposit

USE COUPON

Vegas
$40 no deposit

USE COUPON

Poker
100% up to $300 welcome bonus

USE COUPON

with CAN100
Sports and Markets Available for William Hill Canada
William Hill provides access to a wide range of sports and markets within and outside Canada. The major sports categories covered include:
American Football is covered in its entirety on this sportsbook. It also covers the CFL and NCAA. Every game, including a wide range of specials, is listed throughout the entire season. Other market options include extra bets such as who wins the Super Bowl.
Soccer is also covered in its entirety on William Hill. Markets include the UEFA Champions League, English Premier League, Greek Super League, Scottish League Cup, and Chinese Super League. There are many markets and betting options open on the soccer category throughout the year, and clients are guaranteed to find lucrative options every other minute.

Markets available include the National Hockey League (Conference Winner and Stanley Cup Winner) and Kontinental Hockey League (Highest Scoring Period and Puck Line Handicap). It also covers a variety of international hockey events.
Markets covered in the basketball category include the NBA, EuroLeague, Olympic Basketball, FIBA World Cup, and Asian leagues. It also covers a variety of women's basketball leagues and markets. Clients can also live-stream all major basketball games and tournaments and even place wagers in real-time while the matches are ongoing.
Baseball markets are open throughout the regular season and during the start of playoffs. The platform also provides the latest news and developments in the sport.
The horse racing category is popular among Canadian bettors, and William Hill makes the betting options diverse and lucrative. The sportsbook offers options in markets all over the world, including on races held in Canada, the U.S., France, South Africa, the UK, and the rest of Europe.
Tennis is also well covered on the William Hill platform. The sportsbook offers betting options on most matches throughout the regular season, including the WTA and ATP circuits. It also offers lucrative betting options on all major tournaments, including Wimbledon and the U.S. Open. The sportsbook boasts access to over 25 markets and the best odds.
William Hill offers access to a wide range of golf betting markets throughout the season. It has better odds than the industry average, and its betting options are diverse and always changing.
For MMA and UFC fans, the only thing more thrilling than watching fighters best each other is actually staking money on a favorite fighter. William Hill offers access to a wide range of UFC and MMA matches, and the betting options are diverse and lucrative. Available markets include Venator FC, KSW, and TUF.
From the Tour de France to the Giro d'Italia and Vuelta a Espana, William Hill offers access to a variety of markets in cycling. It also live-streams all major cycling tournaments and allows for live bets. The sportsbook boasts of some of the best odds in the cycling sports category in Canada.
William Hill is one of the few Canadian sportsbooks that offer access to betting markets in boxing. It scouts for a wide range of markets from tournaments and matches all around the world.
Other sports categories covered on William Hill include:
Rugby Union/Rugby League

Snooker

Darts
William Hill endeavors to exploit every betting opportunity in every sporting category covered on the platform. It covers markets all over the world. And, besides sports, William Hill also offers access to other betting markets and boasts of a vibrant online casino with all sorts of games in a wide range of categories.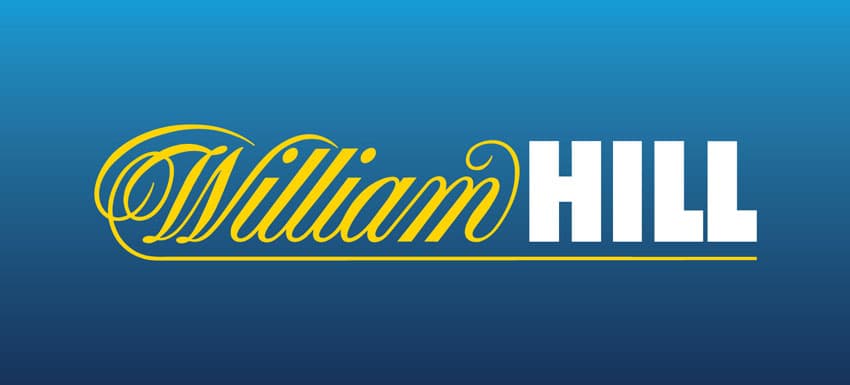 Odds & Limits
One of the most attractive things about William Hill is its great odds and low commission rates. Odds on this sportsbook are higher than the industry average, so players stand to make more money through this platform compared to other sportsbooks. Commissions are also lower than average – for instance, most football matches attract a commission of 3% on William Hill while the industry standard is 5%. Additionally, there are daily flash odds for a variety of sport categories.
William Hill also has limits for how much money clients can deposit, win, and withdraw. Deposit limits are set to facilitate responsible gambling, and while the minimum deposit limit is £10, the set maximum deposit limit varies depending on a variety of factors such as the sport category and deposit method. Clients can also set their own personal deposit limits. Withdrawal limits also vary depending on a variety of factors – they start at a minimum of £5 and go all the way up to thousands.
The limits for how much clients can win also vary depending on the type of sport and market. Winning limits for all major markets (matches, leagues, and tournaments) are capped at £250,000, while limits for all other markets are capped at £50.
Available Promotions
William Hill has lots of goodies for its clients. It offers a wide range of promotions and bonuses that enable clients to win more money for lower wagers.
Canadian bettors are guaranteed a 100% cash bonus for deposits ranging from C$50 to C$250 when signing up. This means that an initial deposit of C$100 earns you an extra C$100 in your account to wager on whichever sport you wish.
The sportsbook also has a variety of promotions that it offers regularly. These include double odds on select sports and markets, which means that you stand a chance of winning twice the initial amount. Select races also have extra places paid promotions. And, if you are unlucky and lose your bet, you can recuperate your losses by getting 10% of the wager back – this, however, is limited to select sports and markets.
Although the promotions and bonuses offered at William Hill are lucrative, they also come with strings attached. One key catch is that the sign-up bonus is regulated – you have to wager the bonus on a set number of bets and wait for a set duration before you can withdraw any winnings. Other promotions also come with less stringent regulations. Bettors are at liberty to forego these promotions and bonuses.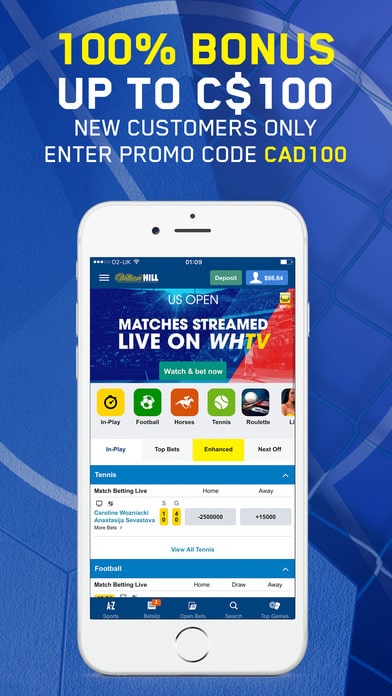 William Hill Canada Review: Additional Features
Ease of use is one of the focal points of William Hill's customer satisfaction strategies. The platform is designed to be easy to use, interactive, and exciting. Here is a look at some of the platform's features.
Live Streaming
Betting is more exciting when you follow the games in real-time. William Hill makes this possible through its live-streaming feature. It live-streams a variety of sports, including majority of soccer matches in Europe. Clients are guaranteed to catch all major games in almost all sport categories. It is also worth mentioning that clients can bet live as the games go on, and the live-streaming feature comes in handy as it enables bettors to make better, more lucrative bets.
Clients do not need to pay extra to live games live through their William Hills betting accounts. This means that you can get the privilege of watching your favorite sports games for free – and even make something out of it.
Mobile App
William Hill is a sportsbook that goes with you everywhere. Bettors can access the platform any time and from anywhere through its mobile app.
The William Hill mobile app is available for a variety of mobile Oss, including Android, iOS, and blackberry. The app contains all features available on the main William Hill website, and it is easy to navigate. It is also intuitive and interactive. The interface refreshes itself every other second to display statistics on different sports and markets in real time.
The William Hill mobile app is available on all mobile app stores, including Google Play. It is also available on the William Hill website. The app is free to download and easy to install, and it does not invade your phone's privacy.
Frequently Asked Questions
Q: Is it legal to bet through the William Hill sportsbook in Canada?
A: Yes, it is legal to bet on sports using the William Hill sportsbook. The sportsbook is registered and licensed to operate in Canada – it is also licensed to operate in some states in the U.S. and most of Europe. However, you should be of the set legal age, which varies depending on the province or territory in which you reside.
Q: How can I deposit money into my William Hill betting account?
A: Bettors can deposit money into their betting accounts through a variety of channels. Deposit options include:
Visa

MasterCard

Maestro

PayPal

Skrill

NETELLER

Entropay

Paysafe
It takes anywhere from one to five working days to get the deposits finalized through these options. All options are safe and available to clients in all provinces across Canada.
Q: How do I start placing wagers on my William Hill betting account?
A: The William Hill website and mobile app are easy to use and interactive. You will get access to all sports categories and real-time stats and odds. Placing wagers is as easy to clicking on a match/tournament/market and picking an ideal amount to wager.
Q: What can I bet on through my William Hill betting account?
A: William Hill offers access to a wide variety of sports and their respective markets. Some of the most popular sports categories include soccer, American Football, baseball, horse racing, ice hockey, and basketball, among others. The sportsbook posts new markets as they come up, and they also host special betting events on special occasions.
Q: How do I withdraw my winnings from my William Hill betting account?
A: Clients can withdraw their winnings from their William Hill sportsbook at any time through a variety of money transfer options, including Visa, MasterCard, and PayPal. It takes anywhere from one to five business days o finalize the withdrawal, depending on the money transfer option.
It is important to keep in mind that there may be restrictions on when you can make withdrawals, as well as exactly how much you can withdraw. This is especially common when you wager using the given bonuses and promotions. If this happens, it is advisable to consult the customer care department – the customer care desk is open 24/7.
Q: Why can't I unlock the promotions and bonuses on my William Hill betting account?
A: The bonuses and promotions available on William Hill are easy to unlock, but some clients report difficulties unlocking or using these promotions. If this happens, it is advisable to first check the attached terms and conditions before applying for the bonuses. You should also contact the customer care desk if the problem persists.
Q: Why am I having trouble withdrawing my winnings from my William Hill betting account?
A: As mentioned, there are some limitations on when and how you can withdraw your winnings. This is especially common when the winnings come from the sportsbook's promotions and bonuses. There may also be complications not associated to promotions.
The best measure to take when having trouble withdrawing your winnings is to contact the customer care department. It is also prudent to stick to the sportsbook's terms and conditions to avoid such complications.
Conclusion: Definitely Recommended
William Hill is one of the biggest and most popular sports betting sportsbooks in Canada and abroad. It offers a wide variety of sports categories, including American Football, Basketball, and Soccer. Each sports category also comes with a wide range of markets and extra betting options, and there is always a lucrative betting option open on the sportsbook. William Hill is easy to use, vibrant, and exciting, and it comes with exciting features including a live-streaming sports portal.
last update : December 2023