The Premier League season is now well underway, with some teams performing better than others. And unfortunately for those poorly performing teams, there is already a flurry of the next manager to leave post odds with the bookmakers.
It is simply the nature of the Premier League that when a team performs poorly, the manager is scrutinized. Since the league is without question the most competitive in the world, managers are constantly coming and going. This is true for all leagues in England; and this includes The Championship, League 1 and League 2.
Sadly, it is the nature of football for changes to happen regularly, which is especially true for the managers of a team. So without further ado, we will take a look at the next manager to be sacked odds and what all of this means for the Premier League.
Ole Gunnar Solskjaer – Manchester United: First to go, Odds 6/1
Our first candidate for the next coach to be fired is Ole Gunnar Solskjaer. Things started out great for the much-loved Manchester United veteran. However, things have been going steadily South for Solskjaer and Manchester United since.
Ole Gunnar was previously a bit of a legend for The Red Devils, famously scoring the winning Champions League goal against Bayern Münich in 1999. This one goal alone cemented him as a legend at Manchester United, therefore it seems somewhat fitting that he now has the manager role.
And all looked well at Old Trafford on the opening day of the 2020 season. Manchester United absolutely hammered Chelsea, 4-0 at home in what was an impressive display. The fans were excited, Solskjaer looked settled, and all seemed well at the club. Unfortunately, this was the last taste of victory that Solskjaer has had this season.
United have gone without a win in 3 Premier League fixtures, failing to beat Crystal Palace, Wolverhampton, and Southampton. This looks even worse when we consider the current standings of these 3 teams. Crystal Palace was the most understandable result of the 3, since they are currently in 4th place. However, Wolverhampton is in 17th (one place above relegation) and Southampton is in 13th.
Solskjaer took over a troubled Manchester United back in 2018, after a disgruntled José Mourinho was given the boot. He went on an amazing run, resulting in his role from interim manager being transformed into full-time manager. Fans were ecstatic about a former Manchester United star being given the reigns, and were convinced that he was the solution to the clubs' recent problems.
Well, this doesn't look to be holding true during the start of the 2019 / 2020 Premier League season. He hasn't been given his marching orders just yet, but poor old Solskjaer is certainly on thin ice!
Fortunately for Solskjaer, Sir Alex Ferguson will certainly be in his corner. Whether or not Ferguson is still playing some form of mentor role for Solskjaer behind the scenes remains unknown, but we are sure the fans would approve if it were so.
William Hill currently has odds of 6/1, Skybet has him at 5/1 and Betway has him at 5/1. This puts Solskjaer as a red-hot favourite to get sacked next it isn't overly surprising considering the demands of the Manchester United legacy.
Mauricio Pochettino – Tottenham, High Odds at 6/1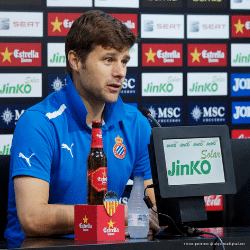 We never said the Premier League wasn't ruthless! Pochettino, despite last seasons Champions League performance is a strong favourite to be the next manager sacked in the Premier League. Pochettino supported his team through two dramatic victories in last year's Champions League, overcoming both Ajax and Manchester City en-route to the final in emphatic fashion. But since the Champions League, Pochettino has not been overly popular at the club.
Tottenham currently sits in 9th place, which isn't a disaster by any means. The club has managed 1 win, 2 draws and 1 loss so far this season. This would be considered a reasonable start for many teams, but not for Tottenham. So while the club made it to the finals of the Champions League last season, we are now into a completely new season. The fans want to see this form continue, and ideally be surpassed in the 2020 season. Sitting in 9th place is no longer enough!
To add to the suffering, rumours of Pochettino's departure from the club spread like wildfire at the end of August. Pochettino has since referred to these rumours simply as 'stupid'. However, with Tottenham's below-average form and potential unrest, it does look like a rocky road ahead for Pochettino.
Pochettino had also expressed disapproval for the way the club had allowed him to deal with the transfer window during the summer. Despite this, Pochettino maintains that he has a good relationship with Daniel Levy, the club chairman. He proclaims that they have had several positive meetings about the future of the club, which would indicate that he plans to stay.
This being said, there are a few things that are absolutely certain in the Premier League. No matter how good a relationship with the chairman, or how well somebody may have done in previous seasons, poor performances are a sure way to become the next coach to be fired in this league!
For the likelihood of Pochettino's sacking – Skybet currently has odds of 6/1, Coral has odds of 4/1, and BetVictor has him at 6/1. The fact that Coral has him at 4/1 is amazing, and is actually the highest odds seen for any of the listed managers.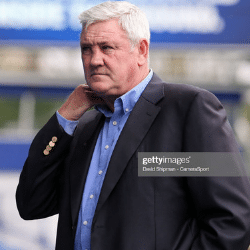 Steve Bruce – Newcastle United: Top on the Line, odds – 6/1
Next in line to face the potential of being the next manager sacked in the Premier League is Steve Bruce. Funnily enough, Steve Bruce is no stranger to being sacked due to unsatisfactory performances. Just last season Bruce was sacked from Championship side Aston Villa, thanks to a record of 1 win in 9 consecutive games in charge. His dismissal came in October 2018.
Prior to that, Bruce was sacked by Sunderland back in 2011 while the club was in 16th place in the Premier League. Interestingly, Bruce claimed that his sacking was partly due to his explicit interest in Newcastle United – the team he currently manages.
Bruce hasn't had the best start with Newcastle for the 2020 Premier League campaign. The club have won just once in 4 games during August, which puts them in 14th position. This position has been largely attained thanks to a shock away victory at Tottenham, where Newcastle won 1-0.
It is just about excusable to lose to Arsenal in a closely contested 1-0 defeat for the season opener, but the other two results have been poor. Bruce's side suffered a 3-1 mauling away to Norwich City in their second game of the season. On top of this, Newcastle failed to beat a struggling Watford at home, with the game ending 1-1.
The club's start, while not entirely shocking has still been somewhat surprising. The club invested heavily in the Brazilian rising star, Joelinton, during the summer transfer market. And this was a move that many fans were extremely hopeful about. This is especially true since he came with a price tag of £40 million!
But despite this promising signing, the club has not performed fantastically well so far. Newcastle United was once a club that posed a real threat in the Premier League, and fans are pining for the return of those days. This is why the future of Steve Bruce is currently so uncertain.
Taking all of this into account, Steve Bruce has landed himself directly in the line of fire to be the next manager to get fired for the 2020 season. Whether or not this will become reality remains to be seen, but it isn't looking too good for Steve Bruce right now. And we are just 4 games into the season!
To add to Bruce's uncertain future, he definitely won't be enjoying the upcoming fixtures. Newcastle travel to Liverpool for their next Premier League game, where it is highly unlikely that they will get any points at all. The Magpies then entertain Bournemouth on home soil, which will not be easy by any means. Bruce's squad then travel to Leicester City, currently in 3rd.
This means that Newcastle will play 2 out of the top 3 Premier League teams in their next 3 matches. Will Bruce avoid becoming the next coach to be fired for the 2020 season? It isn't looking too great for the man from Northumberland.
Now that we all know things haven't been going great for Steve Bruce, let's take a quick look at the odds for his sacking. Skybet has him at 6/1, Paddy Power at 7/1 and BetVictor at 6/1. Things are definitely looking rough for Bruce, and the next few games will definitely play a major factor in his future at Newcastle United.
Frank Lampard: The odds on his side 8/1
Okay, this one came as a shock! Frank Lampard has been a Chelsea legend in his day, as well as being a major player for the England international squad.
Lampard managed Championship side Derby last season, yet rumours soon become rife that he was planning a trip home, to Stamford Bridge. These rumours were confirmed in the summer, and Lampard returned to Chelsea where he had previously spent 13 years as a player.
For such a legend of the club, it came as a surprise that the bookies have him down as such a favorite for the next coach to be fired. However, when we take a look at his record so far, one does start to wonder if this really is such a surprise.
Lampard has managed to lead the blues to just 1 win in 4 Premier League fixtures so far this season. Besides the 4-0 drumming received at Manchester United in his first game in charge, Lampard has drawn with Leicester City at home and drawn with Sheffield United at home. His only win came in a hard-fought 3-2 away win at Norwich City.
All of these results together means that the blues are currently sitting at 11th in the Premier League table. Having amassed just 5 points in 4 games, Chelsea really is struggling under Frank Lampard right now. The saving grace for him is that he is a Chelsea legend, which will certainly give him some extra slack if things continue as they are.
Arguably, it isn't entirely Lampard's fault that the club is struggling. So the fact that he is the 4th favorite to be the next manager sacked seems a little harsh. He has inherited a Chelsea side that has weakened considerably from last season, both in playing level and in spirit. Fans complain that the side is not showing the same passion and pride as they have in previous seasons, which cannot be easy to deal with as a manager.
Nonetheless, it is Lampard's responsibility as a manager to motivate his squad and get them going. Chelsea travel to Wolverhampton for their next fixture, which is a huge game to begin their season turnaround.
The Chelsea legend is certainly looking at some unfavorable odds at the moment – he is 8/1 with BetVictor, 8/1 with Betway but just 16/1 with Betfair. While this doesn't put him as the favorite to be the next manager to be sacked in the Premier League, it certainly puts him as a strong contender.
Marco Silva – Everton: In good form 12/1
Marco Silva, the man from Portugal has managed to slither his way into the top 5 managers who are likely to go in the near future. Silva is currently the manager of Everton Football Club. And despite the fact that his side is currently 6th in the Premier League, he is still in line to potentially be the next manager to be fired. It would be completely understandable to say that this comes as a bit of a surprise, but the bookies aren't without their reasons.
Silva has guided Everton through 2 wins, 1 draw and 1 loss during the 2020 season. The only result that displayed a lack of competence thus far was against Aston Villa, where Silva's squad lost 2-0 away. Besides this, his side has looked quite solid, which brings Silva's placement on the list into question.
One of the most likely reasons stems from the fan's outrage at Silva's performances towards the back end of the 2018 / 2019 season. Fans were extremely vocal towards their dissatisfaction with their team, and subsequently Silva back in April / May of this year. It would seem that many are still being slow to warm to the Portuguese manager after this time period.
And just like his Newcastle United counterpart, Silva is also no stranger to being on the wrong end of the fans. He was sacked from Watford before taking on the Everton position in 2018.
Everton's next two games are against Bournemouth and Sheffield United, which are majorly important games for the club. Since they are currently in 6th, these two games provide an ideal opportunity to break into the top 5. If Silva is able to pull this off, he may just relieve the pressure on himself and begin to truly find his stride at the club.
While it may be true that Everton haven't been a Premier League contender for several years, Silva will still feel that he has a point to prove this season.
And although this is the case, the odds aren't looking fantastic for this manager. Skybet has him at 14/1, Paddy Power has him at 10/1 and Ladbrokes has him at 14/1. While these aren't overly high, he is still facing a barrage of criticism from the fans, which could contribute towards his departure.
Published by bettoholic |
11-09-2019