Since launching its services in Australia, Pointsbet has taken the country's betting industry by storm. In this post, we share our experience playing on the platform and discuss the Pointsbet spread betting feature, that makes it stand out from the pack.
Pointsbet Spread Betting Review

After landing on the Pointsbet official website, we noted that the bookmaker provides punters with two betting options namely spread betting and odds betting. However, we were more interested in spread betting, something that is new to Aussi punters. So, to get you started on our journey, let's state that as opposed to betting on game odds, spread betting is largely speculative.
It is a case of wagering on an event at any given point in time instead of the usual win or lose outcome. Thus depending on price, you can either lose or earn from a bet by specific numbers of points. We also noted that betting on spread presents punters with bigger risks than the traditional oddsmaker's predictions. You must, therefore, be willing to take bigger risks to earn more with spread betting at Pointsbet. Simply put, the more right you are, the more you earn.
How to access the Spread betting feature at Pointsbet
After signing up for a betting account, the next question we asked ourselves is how to access spread betting on the platform. Well, to use the feature, we navigated to the bottom of the page where the bookmaker explains how spread or points betting works. There is a quick video tutorial that simplified everything for us.
A good example is placing a spread bet on NBA game totals. If you speculate the game of over to end over 200 totals, and it ends at 250 with a stake of $10, you win by 50 points. The total possible win or loss is, therefore, $500.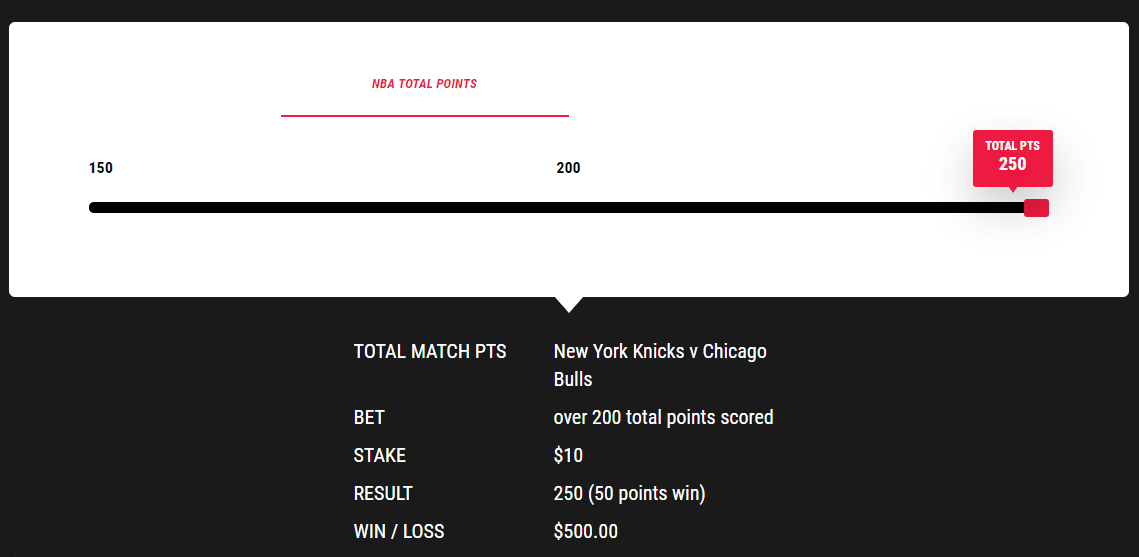 Pointsbet Spread Betting Platform Review
With every betting platform, comes a question of how easy it is easy to find your way around and wager on sports, players, teams and game props. Even more importantly, locating vital features on a gaming platform always play significance towards punters overall experience. On that premise, we also wanted to find out how easy it is to use Pointsbet platform, especially for punters opting for spread betting. We break down our experience into the following features:
User Interface, how it functions?
Pointsbet Australia has one of the best user interfaces among gaming sites in the country. Based on our experience on the site, we noted that it is easy to find your way around Pointsbet site. Whether you are visiting Pointsbet from a mobile device such as smartphone or desktop, the black those blends well with white and red texts. The sign-up and login icons located at the top corner are easy to access. At the bottom of the site, we access vital features such as a section explaining spread betting, help questions, live chats, email and even Pointsbet Australia telephone line. 'My Bets' section gave us a quick access bet slip. However, you must log in to place your bet.
There is a navigation feature at the top left corner with three lines. Upon clicking it, we had access to other vital features such as Pointsbet specials, sports and Pointsbet app download icon. We also noted that on the home page of Pointsbet, a punter can access upcoming racing events and sports. The only disadvantage we can report about Pointsbet user interface is that it sometimes lags, loading slowly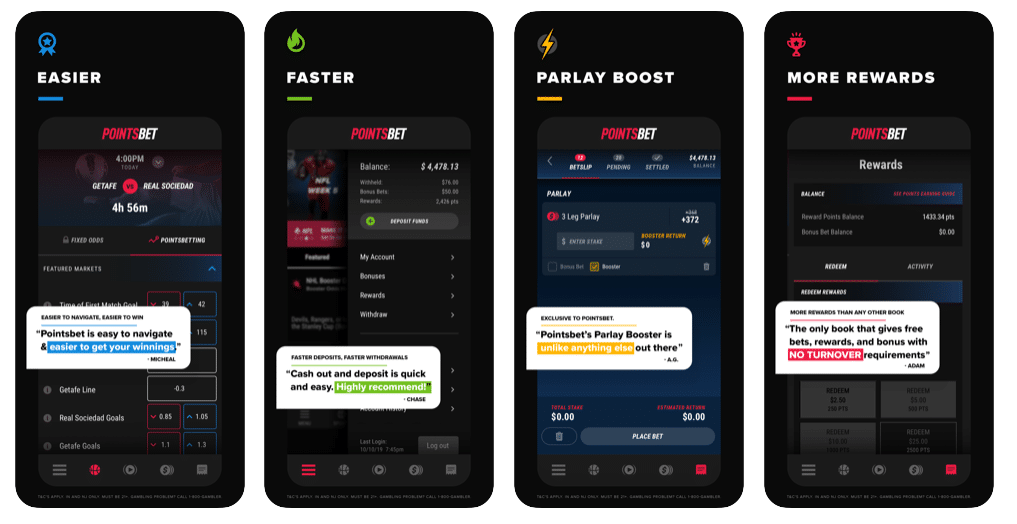 Which sports are covered on Pointsbet Australia?
Apart from the experience we had interacting with the user interface; we also wanted to find out about sports available on the gaming site. First off, let's state that Pointsbet specializes in horseracing. From greyhounds, harness racing to horseracing, we enjoyed the fact all the major racing games are featured on the site. There is A-Z icon listing other sports in alphabetical order. Other sports available on the betting site are basketball, hockey, baseball, rugby, soccer, cycling, darts and others.
Any special features unique to the Bookmaker
The next question we asked about Pointsbet is to do with unique features that make its stand out from competitors. Thus, on further exploring the site, we noted the following as some of the unique features on the gaming site:
Name a bet: Another notable feature on Pointsbet is name a bet. With it, punters can request the betting site through a tweet on their twitter handle to price a game that is not featured on the site. It means bettors have many more options on which to place a bet even if it is not featured on the site.
Pointsbet new customer account management: Another unique and interesting feature at Pointsbet Australia is the new customer account management. As soon as you sign up for a new account, Pointsbet assigns you an account manager to walk you through the bits and bytes of their platform.
Pointsbet Spread Review – Final Thoughts
We highly recommend Pointsbet Spread betting for Aussi punters looking to place their stakes on the platform. The website presents an exciting gaming experience with lots of sports on which to place points bet. It is the place to be if you want to learn spread betting. However, for odds betting, they do not rank highly as one of the best compared to other competitors. Overall, we give Pointsbet spreading betting 4 stars out of 5.
Published by Bryan |
03-09-2020