One of the main reasons why I enjoy betting at Bet365 is the wide range of helpful and engaging features that they offer. Let us explore these features in detail through this post.
Explore the Best Bet365 Features
Bet365 Top Features
Bet365 Feature Details
Bore Draw
A Refund for Boring Matches
Good feature for football matches that end in 0-0 draw, but can be developed for other markets
Bet Builder
Create Your Own Bets
The name says it all, you can create and make any combination of bets
Match Centre
A Very Engaging Experience
Get a gist of all the stats of events happening in real-time.
Live Streaming Service
Games in Real-Time
Live stream* a bunch of sports covered by Bet365's live streaming service
Cash Out Feature
Taking Control of Your Bets
Not always available, but you can usually use the feature in case you're placing bets on Football
*To use the Live Streaming service you will need to be logged in and have a funded account or to have placed a bet in the last 24 hours.
Bore Draw – A Refund for Boring Matches
How many times have you spent an hour and a half watching an absolute bore of a match that ended up in a 0-0 draw and made you lose your bet? Probably too many times to count even count it. When this happens, I always feel like I have wasted my time for nothing. The Bore Draw feature at Bet365 can make that feeling go away.
This feature is only available for football games and allows you to get a full refund of your bet if the match that you have placed a bet on ends up in a 0-0 draw. Keep in mind that only certain bets qualify for the refund – Correct Score, Half Time/Full Time and Scorecast.
I truly like this feature but I think that Bet365 can make it even better by including a few other markets. For example, a straight Final Score bet should also be included in my opinion.
Bet Builder – Create Your Own Bets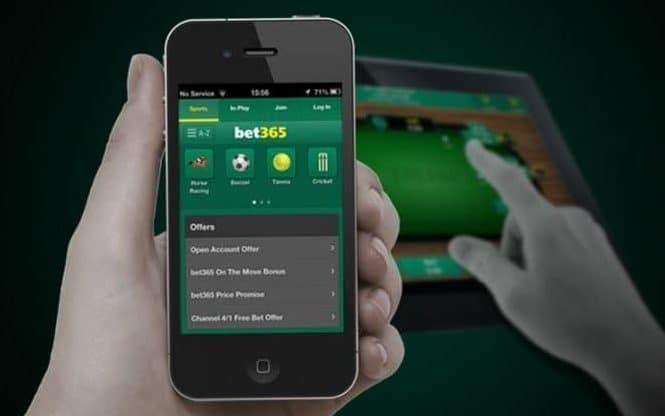 This is another engaging feature found at Bet365 that allows bettors to get creative and build a distinctive bet for one match from multiple markets. The Bet Builder is available for football (pre-game bets) and allows you to create a multi-bet on a single match from different markets.
For example, you could place a wager on the home team to score two or more goals, for the home team to win the game and over for total goals. The number of combinations is endless and the only thing that can restrict you is your imagination.
While this feature is often available at sports betting websites, it usually requires getting in touch with someone from the company to place a bet. At Bet365, this process is fully automated and that is one of the main reasons why people generally love this option.
You can use this feature by selecting any game (that qualifies) you want to bet on. Once you find the match, you will see this feature in the header and when you choose it you will be able to select the markets that you want to bet on. Your odds are then calculated accordingly, after which you only have to choose the amount that you want to bet and confirm your bet.
Match Centre – A Very Engaging Experience
Live betting is perhaps the most popular form of betting today and many betting websites dedicate a lot of effort to make their live betting sections stand out from the competition. This is also the case with Bet365 since they provide a truly unique live betting experience thanks to their Match Centre.
This feature consists of live stats and events that are happening at the very moment. While the live stats are presented with a regular graphic, the major events are shown via an interactive screen. For example, if you are following a live football game, you will see all dangerous attacks as they happen, as well as corners, fouls, free kicks, penalties and, of course, goals.
The way in which these events are displayed is completely different from things that you may found at other bookmakers. Match Centre is a unique way to track your bets and get a better picture of the events that are going on if you plan to make a live bet.
Live Streaming Service – Games in Real-Time
In addition to the previously mentioned Match Centre that enables you to keep track of major events at football games and other sports, you can also use this feature to watch the games in real-time.
The live streaming service at Bet365 is pretty extensive and covers a range of different sports, including football, tennis, basketball, cricket, rugby, horse racing and a few more. Of course, the greatest number of live streams available covers football and popular European leagues. However, you can also find some leagues and games from Asia, South America and other regions.
While the live streaming feature is pretty user friendly, keep in mind that in order to access it, you need to log in. Additionally, your account should be funded; alternately the feature works if you a bet was placed by you in the last 24 hours before the match. These live streams are displayed in HD quality and have great sound. However, you need to have a reliable and fast Internet connection to make the most of the live streams.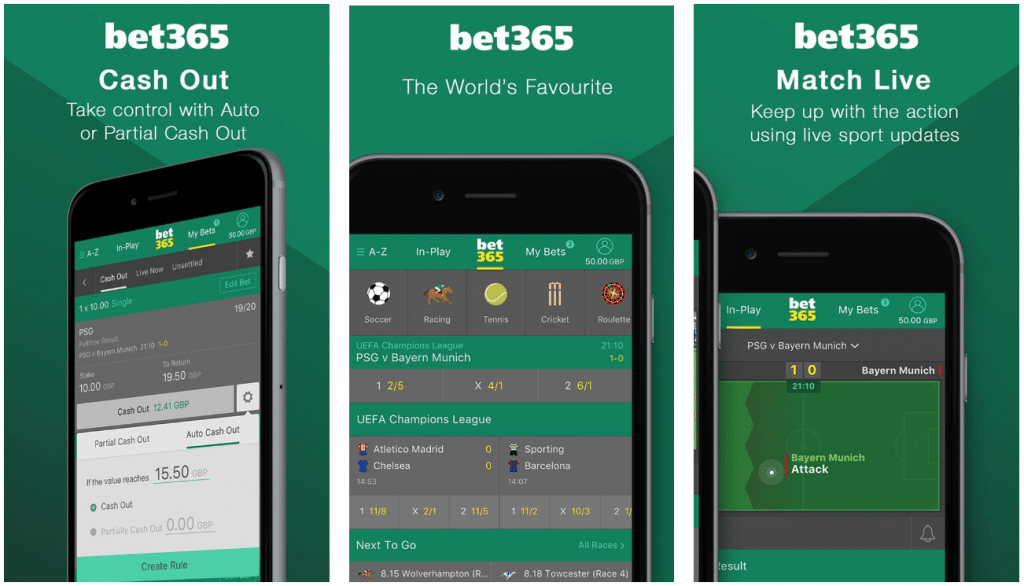 Cash Out Feature – Taking Control of Your Bets
Perhaps my favourite feature of all is the Cash Out feature. While most bookies offer some form of this feature, there are certain differences that can make the feature even better. At Bet365, you can use this feature on certain games but it is not always available. However, if you bet mostly on football like me, you will be able to use this feature more often.
This feature allows bettors to get out of their bets early before the game ends. This way, you have more control over your bets and you can make the decision to cash out for different reasons.
For example, your bet may be going badly and the team that you bet on is currently losing. If Bet365 gives you the chance to cash out and you don't like the chances of your team overturning the result, you can use the Cash Out feature and save some of the money that you've bet.
On the other hand, you can also use it if things are going well. For example, if the team that you've bet on is leading but you are not confident that they can hold on, you can use the Cash Out feature to secure winnings, while also potentially reducing your risks. Of course, those winnings will not be as high as they would if you wait for the end of the match but at least you have secured them.
In addition to this, Bet365 also gives you the option to cash out partially. This is the same feature but it comes with a twist – you can cash out only a part of your wager and you'd have to leave the remaining amount in the game until of course, the match ends. This gives you even more control and allows you to be as creative as you can with your bets.
Bet 365 Mobile App
Bet365 has a nice betting app that is available for both iOS and Android devices. This app is well-designed to resemble the website and to provide the same user experience. In my opinion, the app achieves this because it is easy to use and navigate.
Additionally, the app offers all the features and functions that are available on the website, including live betting and live streaming.
Frequently Asked Questions
How Reliable Is Bet365?
This bookie is a giant in the United Kingdom and the world, which means that they are as trustworthy as they can be. They hold all the necessary licenses to operate in the UK and other countries.
Can Anybody Register at Bet365?
As long as you are over 18 years of age, you can register at Bet365. However, bettors from some countries may not be able to join but if you are a UK resident, you can open a new account at any time.
How to Register at Bet365?
You can open a new account at Bet365 pretty simply. Go to the website and you will see the "Join" button in the upper right corner of the homepage. Once you click on this button, you will begin the registration process.
What Sports Can I Bet On at Bet365?
You can find a wide variety of sports to bet on at Bet365. The most popular sports in the UK include football, rugby, cricket, tennis, golf, horse racing, greyhounds, basketball, etc.
Is Live Betting Available at Bet365?
Yes, you can bet on live games at Bet365. The live betting section covers numerous sports, leagues and matches. You can also keep track of all live games and events in the Bet365 Match Centre.
Is Live Streaming Available at Bet365?
Yes, the live streaming service at Bet365 is quite extensive and covers many different sports, although the vast majority of live streams cover football matches.
Is There a Cash-Out Feature Available at Bet365?
Yes, Bet365 offers a Cash Out feature for various sports but it may not always be available. This feature allows you to cash out your bet before the event is over.
Can I Play Casino Games at Bet365?
Yes, you can also play casino games at Bet365 in addition to betting on sports. This includes numerous slots, table games, card games, Bingo, Poker, and many others.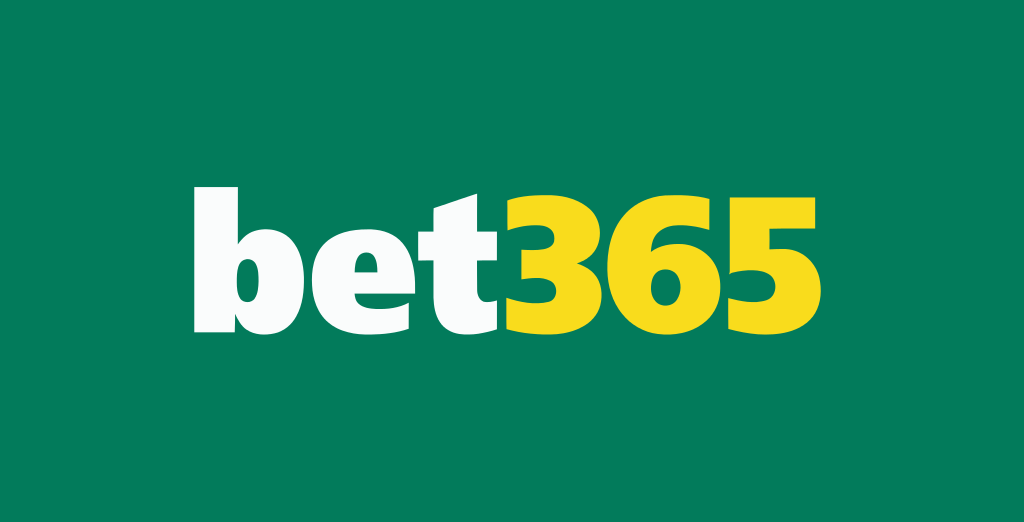 Bet365 Best Features Review – The Cream of the Crop
As with every other bookie out there, there are things at Bet365 that could be improved. However, in my opinion, Bet365 is definitely at the very top of the sports betting industry. All of the features I have reviewed here show that Bet365 is dedicated to making your betting experience better.
Remember that you must be at least 18 years old if you want to join Bet365. Also, you can find support related to wagering at BeGambleAware if you ever need it.
Disclaimer: The above information is subject to change, please refer to Bet365 online platforms for the latest updates.
Bet365 Terms and Conditions apply / New Customers Only / Commercial Content / 18+ Responsible Gambling.
This review is based on a personal experience of the Bet365 offers.
Published by Bryan |
18-08-2020